Casper's Premier Child Care Facility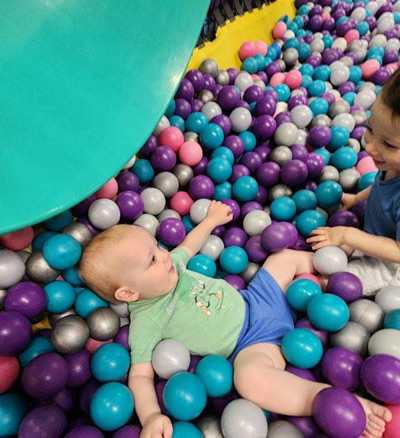 Mission
The mission of Kids Works is to provide a safe, connected environment where children will develop a strong sense of confidence, the ability to see the best in others, and a mind for learning.
Vision
Students in the Kids Works School Family will leave with life-long skills of self-regulation, the ability to access their optimal learning state, ability to problem solve, and a heart to live and lead in the world.
View Pricing & Tuition Schedule
We are Casper's alternative to childcare and premier preschool. We feature Part, Mid, and Full Time childcare and preschool for ages 6 weeks and up. We also offer a school age summer program and a holiday program for school breaks. Drop in care is offered based on availability.
At Kids Works we are committed to nurturing the whole child, socially, emotionally, and intellectually. We believe that play is a child's work. Children best learn through play and obtain the ground work for future learning.
Two Great Locations
Intermixing age groups develops many positive skills and build self esteem in each child. Low child to staff ratios benefit the children in each area of our facility. Many choices are given to our children throughout the day to empower them to become a leader and help them make choices later in life. Our environment will have your child feeling secure and accepted while spending time with us, whether for an hour, or all day.
Preschool is implemented in all our classrooms! We use Creative Curriculum and Conscious Discipline in our Preschool program. Our preschool encourages abilities and interests. Our professional staff shares the same philosophy and values on providing the child with life skills and developmentally appropriate activities to promote success in our children. Staff development is critical to our success; therefore Kids Works offers continual professional development. Our experienced staff includes a registered nurse & trained personnel; all are First Aid and CPR certified.
Kids Works is thrilled to offer an alternative to conventional childcare. We incorporate preschool everyday, year round. We feature part, mid, and full time child care. Drop-ins welcome based upon availability!
We begin offering care as early as six weeks! Our new Baby Works infant care program will provide a loving, safe, environment for your child while in our care. Your child will bond with a consistent primary caregiver who will love and provide excellent care for your bundle of joy.
Birthdays are a ball at Kids Works. We are the party professionals and will provide your special child and their friends with the "kraziest kids party"! Learn more about our party packages.